It was the Autumn of 1948 and post-war Americans were attracted to the 3D Kodachrome images available with the View-Master system.  Yet, Sawyer's wanted to make the holiday buying season bigger than before. The October issue of View-Master Dealerscope, an internal publication from Sawyer's about their products, offered a suggestion with the article " Reels to be Pre-Packaged for Simple Handling, Quick Selling", which announced the first release of multi-reel packets.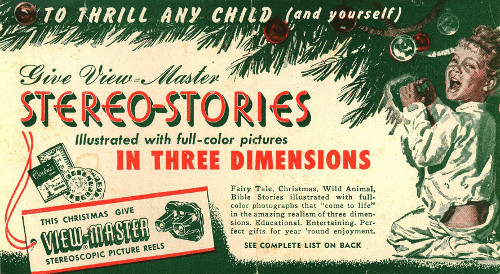 Sawyer's already sold reels of subjects singly, but the multi-reel set brought a new angle for clerks in faster deliveries and bigger unit sales.   It was like the difference between selling a single record and a full LP of the same artist.  This new approach brought forth Stereo-Story Reel Packets that were colorful, attractive, and also easy to handle and store.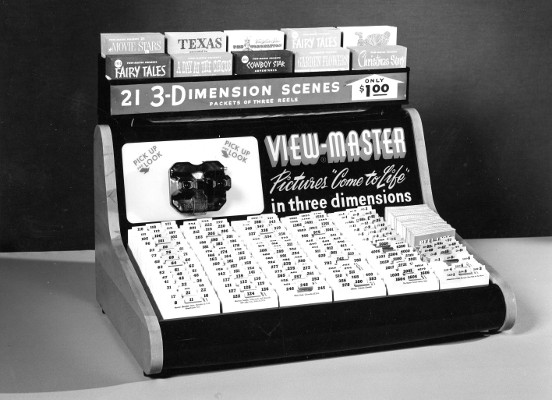 Joe Leslie, the Sawyer's sales manager at that time, pointed out, "All of the features should facilitate a quick turn-over and heavy selling.   The colorful new Stereo-Story Reel Packets are ideally suited for center aisle promotions and should return big dividends to those dealers who utilize them for island selling."

Sawyer's chose popular subjects for their first Stereo-Story sets: Fairy Tales, The Christmas Story and Wild Animals.
The contents and price of each Stereo-Story Reel Packet were tastefully displayed on the front.  Additionally, each packet contained a current Reel List of all View-Master scenic and travel reels.   According to Mr. Leslie, "This additional information will help the dealer in his long range selling program to bring customers back to the store to purchase other View-Master products."   These lists replaced inserts that previously had an ad for a Light Attachment, Jr. Projector and Theater Kit (shown below). 
Each Stereo-Story Reel Packet is easily distinguishable by the printing color on its envelope.  Fairy Tales (6 reels) was orange, New Fairy Tales (3 reels) was purple, The Christmas Story (3 reels) was blue, and Wild Animals (6 reels) was green.   Single reels in 1948 sold for 35¢ while the Stereo-Stories with three reels sold for $1.00 and Stereo-Stories with six reels sold for $2.00.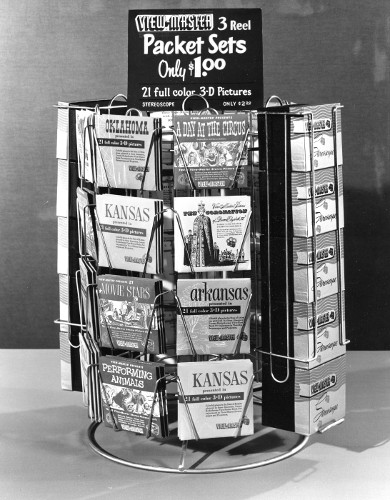 In the February 1949 View-Master Dealerscope, it was reported that the ratio of 3-to-1 over individual reels during the 1948 Christmas buying season.  This rapid increase was the beginning in the explosive growth of the packets for decades to come.